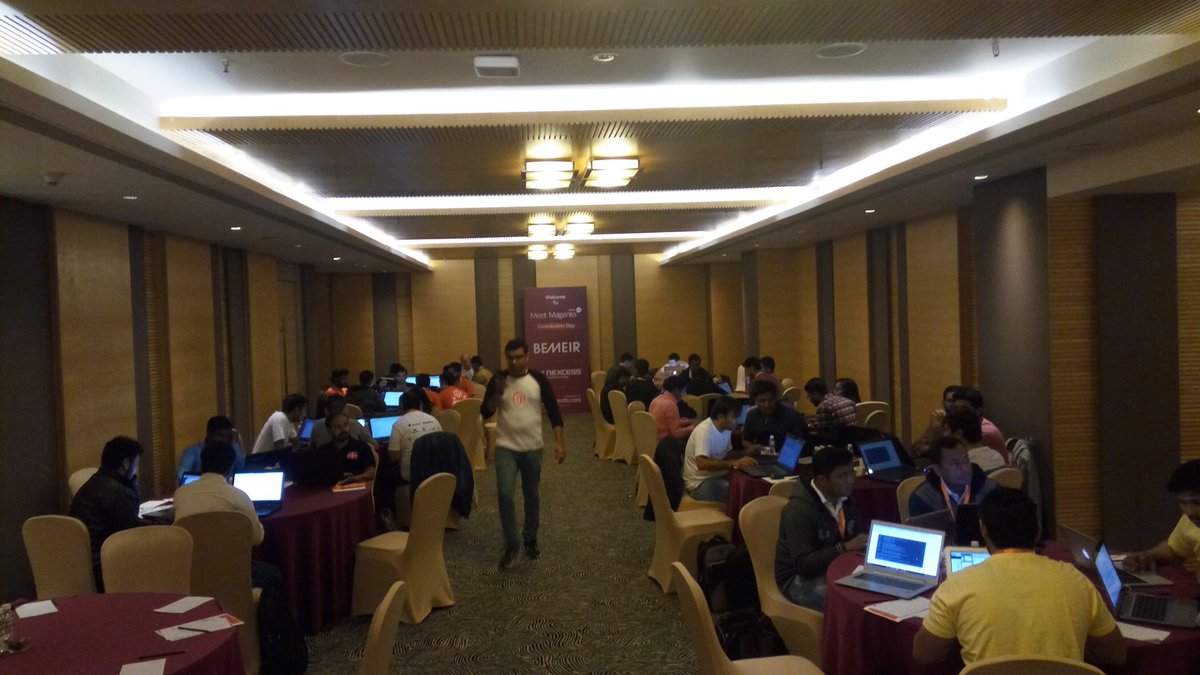 We don't just build websites -- we also build community. Our global team of developers is one example of this, as are our customers, our partners, and everyone who attends our events and webinars. As Magento is the world's largest and most powerful open-source e-commerce platform, it only seems fitting that a Magento development agency should place such emphasis on community! In this article, we want to share four exciting ways that we work to create community engagement.
1. Innovation Through Cooperation
Tapping into the worldwide network of developers, designers, and creative entrepreneurial minds is what drives innovation. We are committed to facilitating community building because we recognize that ultimately, collaboration makes all of us stronger. We embrace our involvement with the Magento Community Engineering team and both host and participate in events, conferences, webinars, and many other functions for companies using Magento.
Our collaborative spirit is also demonstrated through our global presence. With offices in the USA, Bolivia, Mexico, and India our global team is constantly working together to expand skills, solve challenging problems, and then share what we learn and discover with Magento users around the world.
3. Top Notch Magento Training
Our trainers and training sessions are without equal and can help you take your business to the next level. With authorized trainers in India and Latin America, we can provide the exact training you need, where you need it. By drawing on our global community of experts, you can leverage the power of our ever-expanding network of top-notch resources.
If you are a developer and want to enhance your Magento development skills, come join us at one of various training sessions we offer. Not only will you deepen your understanding of Magento, we always come away from these sessions having learned something as well. It's this give and take, the sharing of inspiration and learning that motivates us to stay so engaged.
In addition to in-depth, in-person training sessions, we also offer webinars, cloud-based learning videos, and a developer study group, so that no matter where you are or how you prefer to learn, you can join us and take advantage of our learning community. Not only do our Magento U sessions provide you with hands-on exercises that you can actually use in real-world situations, you also have access to expert Magento users who can answer your questions and provide you with practical guidance so you can take what you learn and put it to work in your business context.
4. We Learn by Listening
We take part in Ask the Masters webinars and by sharing our expertise with you help provide Magento developers, merchants and agencies with both inspiration and practical advice for improving e-commerce performance. While we are quick to share and always looking to spread the word about the latest innovations, we are also always listening. You are just as likely to ask a question that prompts investigation and experimentation on our part and that, in turn, leads to optimization and real solutions. Sharing your input, knowledge, experience, and expertise helps us help you. We get it - working together is what makes us all better!
5. Customized Learning Experiences
Looking for the ultimate experience in connecting with other Magento users and developers? Keep an eye out for one of our fabulous Magento Contribution Days. Working with the Magento Community Engineering Team, we help facilitate these events, providing users with access to Magento Engineers to help you get fast answers to your most pressing questions. Yes, you'll no doubt take something away from your time spent at a Contribution Day, but just as importantly, you'll have a chance to make connections with and contribute to others working with Magento.
Join in the Fun!
The bottom line is, it's both more productive and more fun to be part of a bigger community, to feel like you are working together toward big solutions. To learn more about how we are helping to make that happen and to check out future events and networking opportunities, visit our home at Wagento.com today!